Let's Go!™
The Series
Every adventure begins with two simple words: Let's Go!
Episode 8: Harvest Joy
GIVING GROVE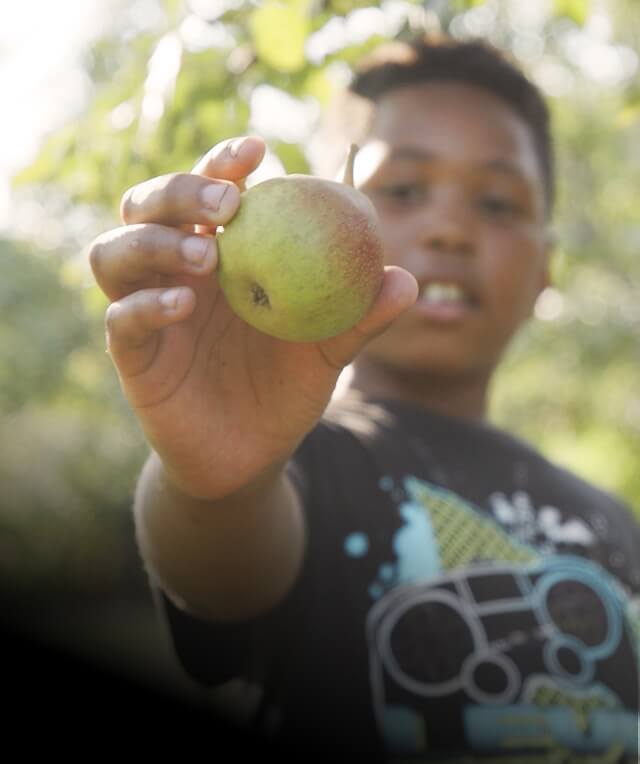 How do you go from planting a seed, to producing one million pounds of food each year? For Giving Grove, it was a combination of hard work, neighborly collaboration and a whole lotta joy. Since 2011, Giving Grove has made it their mission to plant orchards in underserved urban neighborhoods, increasing access to healthy produce while helping communities build their own food systems.
We joined the Harvest Celebration at one of their oldest orchards in Kansas City, Missouri. Beneath the shade of 108 trees and amidst 36 community gardens, neighbors celebrated their roots while sowing seeds for the future. Maintained by local volunteers, the orchard is a place to build relationships, connect with nature and celebrate abundance. And when the fruit is ripe, everyone has access to the bounty.
We're excited to share this magical, collective outdoor space. We're equally excited to present Giving Grove with a grant through our Parks for All program. It's just part of the $2.5 million we've awarded so far.
Roll up your sleeves and watch the whole film here! Learn how Giving Grove is bettering communities, one tree at a time at https://www.givinggrove.org/
Episode 7: Beyond Barriers
OUTDOOR FOUNDATION
EXPLORE ON
When Muang Lay arrived in the United States from a refugee camp, he wasn't sure where to call home. After backpacking, climbing and surfing with Outdoor Foundation, he realized his true home was out in nature. Today he's serving as an interpretive ranger at Joshua Tree National Park.
Across the country, Outdoor Foundation is breaking down the barriers that limit access to the outdoors. In the latest episode of our Let's Go series, we join young adventurers during the organization's Thrive Outside month. From the magical desert landscapes of Joshua Tree to the calming seaside lagoons of San Diego, we couldn't help but feel their sense of excitement and discovery.
Outdoor Foundation believes access to the natural world not only improves the health of the communities they serve, but also improves the health of the outdoor industry as a whole. Hydro Flask is thrilled support their Thrive Outside programming with a Parks For All grant. It's just part of the $2.5 million we've awarded to date.
Grab a life-jacket and watch the whole film here. Check out all the ways Outdoor Foundation is empowering individuals and families to get outside at https://outdoorindustry.org/participation/.